We waste a lot of time in our work lives searching through folders, emails and even scraps of paper on our desks. Colour coding makes it much easier to find things, and is a brilliant way to show the importance of an item is at first glance. We've picked some of the best ways to use this colourful time saver.
Colour Code Your Folders
This is a trick that can be applied either to folders used to store paperwork or computer folders. Both methods are helpful because they allow you to pick out the folder you need quickly, rather than wasting time scanning labels. Once you memorise the colours you've applied to each folder (this occurs surprisingly fast when using them regularly) you won't even need to think about it.
For paper folders you can either purchase folders in different colours or pop a coloured sticker or label on each spine. You can even go a step further here by using coloured dividers and pens within them.
With computer folders, your operating system may automatically let you choose a colour (such is the case with many Apple products). If not, there are some great pieces of software that you can download for free that do the job. Popular choices include Folderico and Folder Colorizer.
Colour Code Your Notes
Many people who work in an office environment choose to write reminders or tasks on sticky notes and adhere them to their desk or monitor. Colour coding can help you organise these more efficiently by letting you see which category they belong to at first glance. We suggest coding by client, project or urgency. Using green, orange and red notes are a great way to associate tasks with their level of urgency.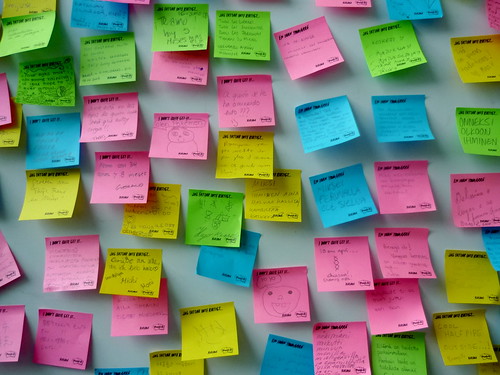 Colour Code Your Emails
If you find your email inbox gets overloaded on a regular basis, colour coding can help you to separate the urgent items from the ones that can wait. It will also save you from trawling through your inbox at a later date when you are searching for a specific email.
Most email services allow you to do this easily. For example Outlook and Gmail both let you to add a named colour category to each email, making it simple to group them together by categories such as meetings or client conversations. There are many comprehensive guides online for each email service outlining how you can make their colour coding system work for you.
Colour Code Your Calendar
Not only does assigning a colour make it easier to spot an event, it also helps to separate work and personal tasks, something many professionals struggle with.
A paper calendar can be colour coded by either highlighting the text for an event or adding coloured labels. Remember to make a key so you don't forget what each colour means.
Many digital calendars come with the option to colour code. Microsoft Outlook is great for this, with easy to create and apply categories. You can find comprehensive tutorials online on how to do this effectively.
Colour Code Your Keys
It may sound like an odd one, but popping coloured caps onto your keys or having them coated with a colour or pattern can make life easier. It will help prevent those instances in the morning when you try every key you own to get into the office, whilst attempting not to get soaked in the rain or spill coffee down your shirt. Additionally, if you need to lend somebody your keys you can simply tell them that the 'green one' is the key they need.