What Is Archive Storage?
Archive storage for documents allows you to free up office space by storing all your documents long-term in a safe environment offsite. This can be a great option for law, medical, and financial professionals – in all of which, the number of paper documents tends to endlessly increase over time.
Retaining documents is important whether for legal or statutory compliance reasons; depending on the nature of these documents access to them will differ, having documents on your business premises may be an inconvenience, especially if office space is limited or at a premium. Our secure document storage units provide a storage space where you can access your documents as much or as little as you need.

Managed Storage or Deep Storage?
Many different types of businesses require document storage and have different storage requirements. Our archive storage service comes with two options that allow you to get what you need from your document storage.
Managed and Deep Storage. The Managed service is for customers who regularly require access to their documents, the Deep service refers to long term document storage where customers require infrequent access to documents.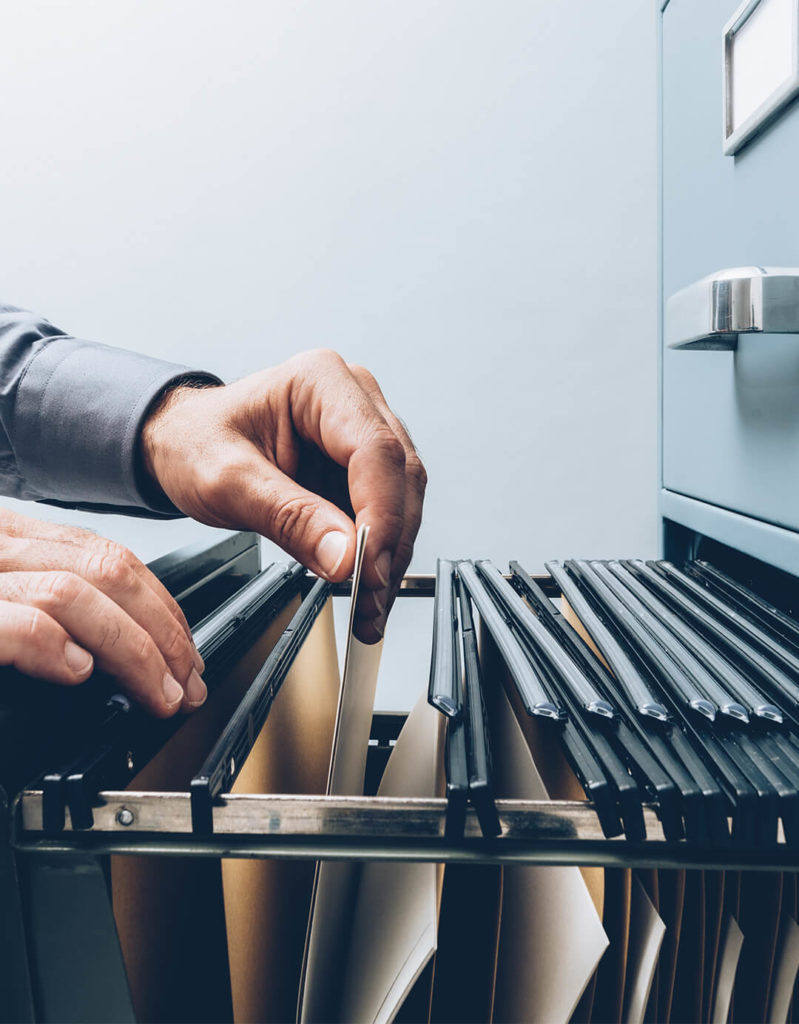 Long Term Document Storage – Deep Storage
Our Deep Storage services are the perfect solution for customers who have important documents that they need to store for an extended period of time. Documents are stored within our secure archive at a reduced rate but individual box deliveries are charged for when documents need to be accessed. This allows us to provide a long-term storage service at great value and competitive prices.
Security and confidentiality of your documents are our utmost concerns. All of our stored documents are kept in a secure, insulated warehouse with 24 hour CCTV monitoring, security alarms and smoke detectors. We want you to be sure that your documents are in good hands.
We use one of the leading software companies in the industry to provide our Record Management system.  This ensures all boxes are tracked on entry and throughout their storage lifecycle for quick and accurate location of your documents when you need them.

Archive Storage – Managed Document Storage
As your business grows and as time goes on, the number of paper documents you have mounts up, filing cabinets begin to overflow, and it becomes increasingly difficult to keep organised. Your valuable office space will, in time, become overrun with boxes of documents. Our managed service enables you to store documents offsite but still have regular access to them.
How Do You Store Documents?
To store documents offsite you need to catalogue them so you know which documents are in which box. Cataloguing gives you a good opportunity to clear out old documents and store only those that you genuinely need to keep. Storing them with Whitefield's Storage as part of our archive storage service alleviates the physical room required in your office. Your archive can grow at our premises without affecting your office space and we offer destruction services when you want to destroy documents.
Flat pack storage boxes are used for storing documents. This keeps them safe and organised within the storage units. We ensure that we maintain control of the environment in the storage facilities so that your documents remain in a dry and cool environment. Offsite document storage can be a fantastic solution to keeping your office space neat and tidy, and keeping your paper documents safe for long term retrieval.