Domestic Shredding Services
Domestic and Home Shredding Services
At WD Storage, we understand that protecting your personal and confidential information is important. That's why we offer secure shredding services for your home and personal documents. Our domestic shredding services are designed to provide you with peace of mind knowing that your sensitive information is being destroyed in a secure and responsible manner.
How Does Our Paper Shredding Service Work?
At WD Storage, we take several precautions to ensure accurate and secure document destruction.
When a customer chooses our document destruction service, we have multiple verification procedures to guarantee that only the appropriate documents are shredded.
First, the customer provides us with the details of the boxes to be destroyed, which are then cross-checked and confirmed with the customer.
To proceed with the destruction, an authorized signature is required, to ensure the validity of the request.
After the destruction is authorized and carried out, we provide the customer with a certificate that confirms the destruction of your confidential paperwork.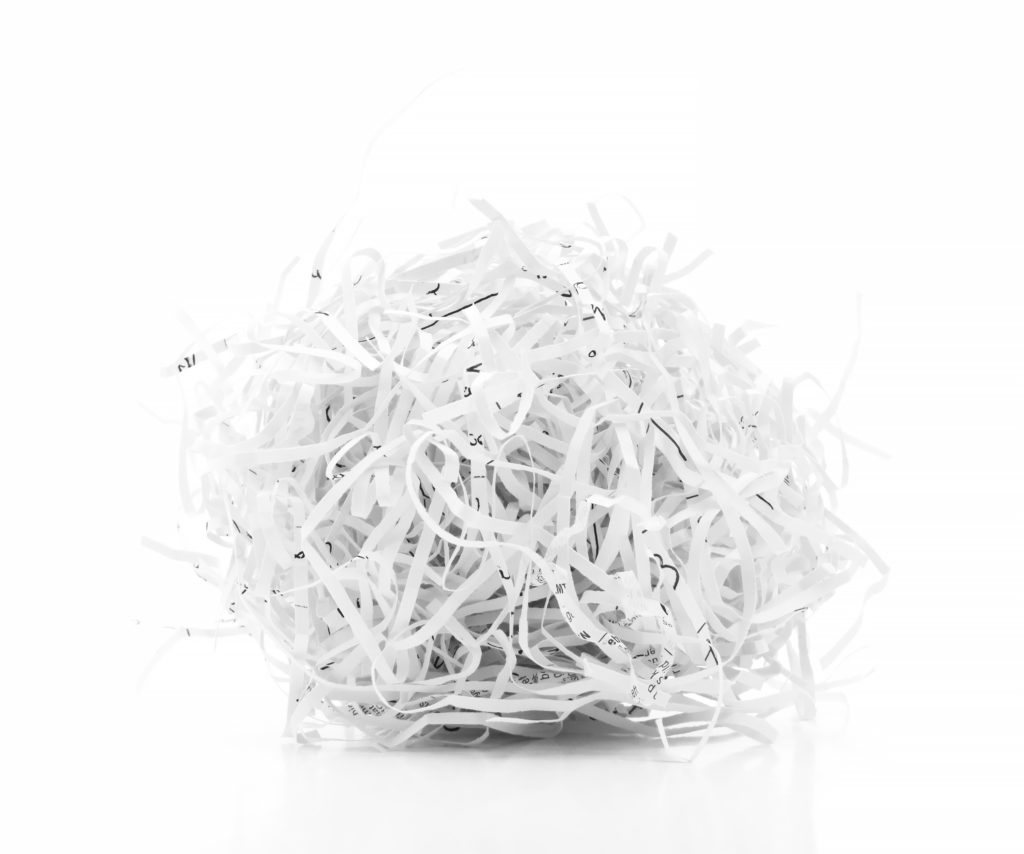 Stored Document Paper Shredding Services
We offer shredding services as part of our commitment to protecting your sensitive information. If you're using our document storage service, then we offer the convenience of having your stored documents securely shredded and turned into confidential waste. If you're interested in our shredding service, all you have to do is reach out to our team and we'll help. Our integrated solution ensures the complete protection of your confidential data from storage to disposal.
One Off Shredding Services
Don't have documents stored with us? We can still offer a one off secure shredding service. Bring the documents that you would like to get destroyed to our offices and we'll sort them out. Simply get in touch now!
Confidential Waste
Whether for use on an ad hoc basis or our regular shredding service for current customers, we make sure to use high security methods to destroy your confidential waste. Once your paper waste has been securely shredded, we provide you with documentation confirming its destruction.
---
Why Use Our Domestic Shredding Services?
---
Protect Your Identity
Personal documents such as bank statements, credit card statements, and tax documents, contain sensitive information. Shredding these documents ensures that the information is irreversibly destroyed, reducing the risk of identity theft.
Financial Security
Shredding financial documents, including old receipts, outdated insurance policies, and cancelled checks, can protect individuals from financial fraud or unauthorized access to their financial accounts.
Declutter your space
Over time, personal documents can accumulate and take up valuable space in homes or offices. Shredding unnecessary documents can help declutter and organize living or working spaces more efficiently.
Moving House
During moves or transitions, individuals may want to downsize or get rid of old documents they no longer need. Shredding these documents eliminates the risk of information falling into the wrong hands during the moving process.