Keeping your desk tidy is essential if you want to be as productive as possible. A tidy desk is a desk that is free from distractions, and one that makes it easy for you to find all of the stuff you need, when you need it. Tidy desks don't have to be boring, however. These creative, quirky and cute (or sometimes scary) desk tidies let you express your personality while still keeping your desk organised.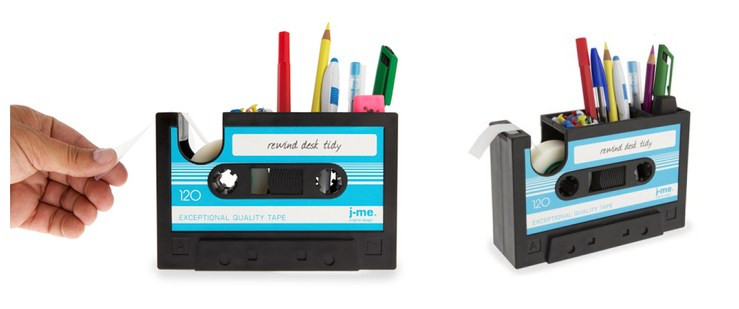 This retro-style J-Me Rewind Desk Tidy is ideal for any music lover (or retro gamer) who is old enough to remember the days of the cassette tape. This tidy looks like a double play cassette tape, complete with the tape window and holes for the reels. The Rewind Desk Tidy does double duty as a three-compartment pen-holder and a tape dispenser.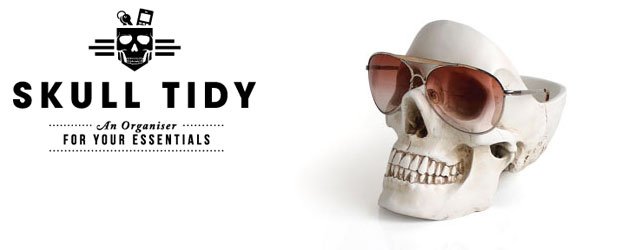 The Skull Tidy is, as the name suggests, a desk tidy in the shape of a human skull. The rear of the tidy is big enough to store a mobile phone, your keys, some loose change, cosmetics, or whatever else you would normally keep in your pockets. The designers have taken some slight artistic license, and made the nose of the skull stick out slightly, rather than being a simple cavity. This lets you place your sunglasses on the front of the skull. This desk tidy is perfect for the goth or death metal lover in your life.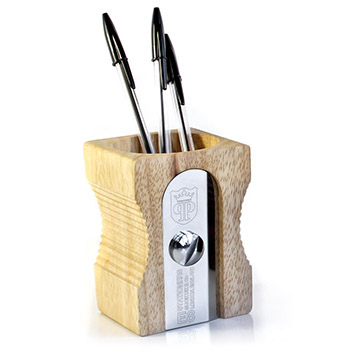 This large and beautifully made pencil sharpener desk tidy is ideal for creative types of all ages. It would look great on your child's desk, and is clean and simple enough that it would fit in at the office too. This eco-friendly desk tidy is made from sustainable rubberwood, and is spacious enough to hold a large collection of pens and pencils.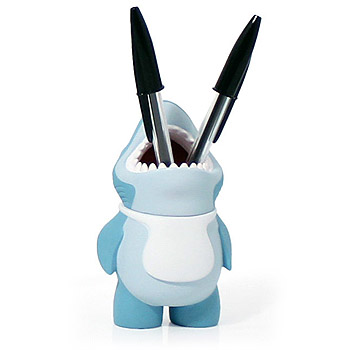 This vinyl pencil tidy is both cute and useful. Shaped like a shark (who is quite clearly hungry, since his mouth is wide open and he's wearing a bib), this desk tidy can hold several pens and pencils. Since it's vinyl, it could also be used in the bathroom to hold tooth brushes. Unlike many of the other desk tidies in this list, it doesn't have a tape dispenser, and it isn't made of any breakable materials, so it makes an ideal gift for school-aged children.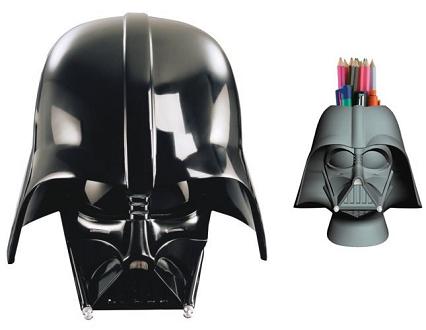 5. Darth Vader
It's rare that you'll encounter a geek that doesn't like Star Wars. This highly collectible Darth Vader helmet desk tidy stands at 17 inches tall, and can hold a huge amount of stuff. This helmet is sure to appeal to science fiction lovers, but it may irritate your co-workers, since it makes authentic Darth Vader breathing noises. Can you turn your colleagues to the dark side?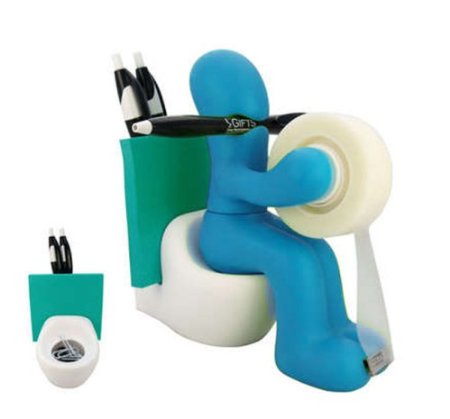 This slightly cheeky desk tidy is a great way to show off your sense of humour. The Butt station features a guy sitting on a toilet. the back of the toilet serves as a pen holder (and a notepad holder), and the moulded character can hold an extra pen in his mouth. His hands serve as a tape dispenser, with his feet having a serrated edge for cutting the tape. Pick the guy up to reveal a toilet bowl suitable for holding paper clips. The little guy is magnetized, for holding extra paper clips.